Engineering ROI: Why Hiring a Third-Party Engineering Firm Pays Off
February 21, 2023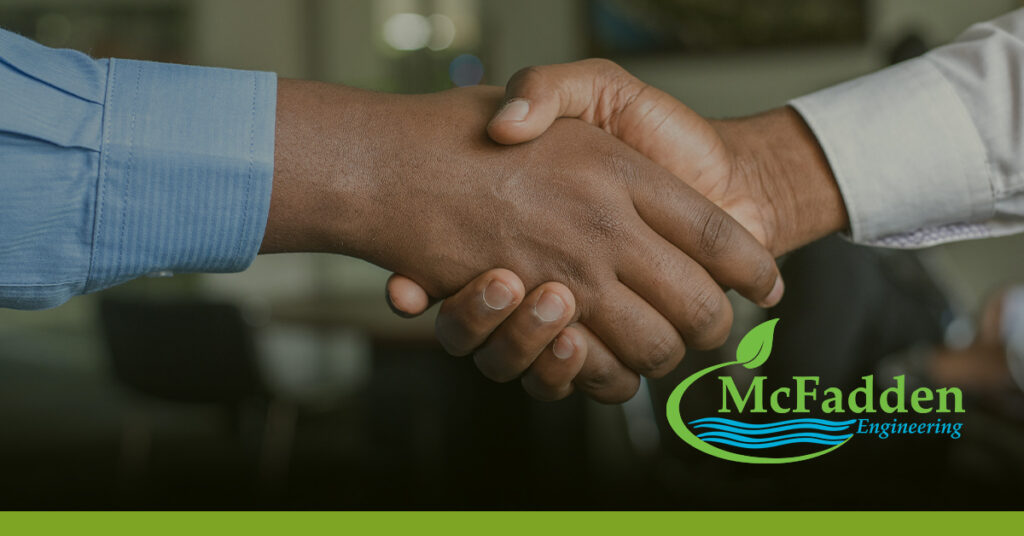 For McFadden Engineering clients, hiring a third-party engineering firm offers benefits that increase the overall return on investment (ROI) for the project. Not only do our clients receive additional assistance meeting deadlines and completion timelines, but the knowledge, experience and broad range of specialty services that MEI offers provides insight that turn issues into solutions. McFadden specializes in providing efficient, responsible and cost-effective solutions. Our team of engineers is multi-skilled and multi-disciplined and works closely with our clients to solve environmental and civil engineering challenges.
Receive an Outside Perspective
Too often, teams are focused on completing a project or identifying one solution and may lose perspective regarding solution effectiveness, recent innovations and long-term problem identification. Turning to a trusted outside engineering firm will bring a fresh perspective and an experienced team to your project. Sometimes even the simplest problems may go unidentified and cause unwanted surprises once the project is complete. Bringing in an outside perspective can often uncover issues with your project that your team never considered or does not have experience addressing.
Work with Specialists
Sometimes you need a specialist to design or work on a small aspect of your engineering project. While it may not make sense to bring them on for the entire project, hiring an engineering specialist for contractual work can give you the results you need while saving your project money. McFadden Engineering has experience working with other professionals to address specific aspects of projects such as NPDES permitting, wastewater treatment or meeting water reuse requirements. McFadden Engineering's team of professional engineers and professional geologists solve unique challenges through an integrative and innovative approach to environmental and civil engineering. Our team understands advancing technologies and changing regulatory landscapes and works diligently to employ cost-effective and technically proven solutions.
Strategic Partnerships
Engaging with McFadden Engineering as a third-party engineering service also brings relationships with a large spectrum of companies and equipment suppliers. We have relationships with strategic partners that your company may not have and are able to leverage these relationships to help our clients meet timelines and navigate permitting and regulatory challenges.
When your project's success and more importantly, ROI is at stake, trusting an experienced engineering partner is non-negotiable. Contact McFadden Engineering and our team of professional engineers and geologists to evaluate and solve your civil and environmental engineering issues. Learn more about our breadth of engineering services and contact us for more information.
Share This Page