July 21, 2017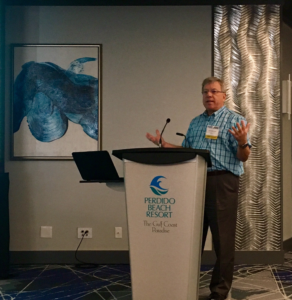 Frank McFadden, founder of McFadden Engineering, presented solutions for alleviating stress on deteriorating wastewater infrastructure in Alabama at the American Society of Civil Engineers (ASCE) Alabama Section annual summer conference on July 19 in Orange Beach, Ala. An expert in innovative water and wastewater engineering, Mr. McFadden advocated for the use of sustainable, decentralized treatment methods as an alternative to centralized wastewater treatment.
In March 2017, the ASCE graded the United States' overall wastewater treatment infrastructure as D+, and Alabama earned a grade of C- in the same category. About 65 percent of wastewater collection system infrastructure in Alabama has reached the end of its useful life, which has resulted in broken, cracked, clogged and disjointed pipes.
The health of wastewater infrastructure is important to maintaining the Alabama's water quality, and the existing infrastructure no longer keeps up with demand. Aging wastewater treatment infrastructure and the sheer abundance of wastewater produced in the United States have created an urgent need for alternative treatment methods outside of centralized public and private wastewater treatment systems.
Learn more about McFadden Engineering's wastewater treatment expertise.
July 12, 2017
The McFadden Engineering team specializes in providing environmentally sound solutions to solve unique engineering needs. We are environmental and civil engineers with extensive experience throughout the Southeast United States.
As a client-oriented firm, our philosophy centers around our clients' success. By prioritizing client relationships, we can anticipate potential challenges and offer innovative engineering solutions to achieve results. With each new project, we aim to deliver holistic solutions that go beyond technical facets, addressing financial concerns and anticipating the perceptions of regulatory agencies, outside parties and the general public. Through excellent established relationships with local, state and federal regulatory agencies, we have the tools to navigate and advocate on our clients' behalf.
We are prepared to help our clients address all their civil and environmental engineering needs. Our team is ready to work with you to find an environmentally sound solution tailored to your needs. Learn more about our civil and environmental engineering services.