Wastewater Treatment Plant Upgrade
Robertsdale, Alabama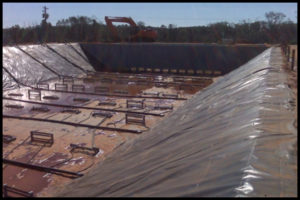 McFadden Engineering has provided the City of Robertsdale comprehensive environmental consulting services since 1994.  Since 2006, McFadden Engineering has served as the program manager and engineering consultant for implementation of the recommended improvements, including the relevant wastewater project were McFadden was retained by the City of Robertsdale, Alabama to design a 1.5-mgd advanced WWTP (Biolac Process®) capable of discharging more than 95-percent treated effluent. 
As part of the design process, we evaluated a number of alternatives and the decision was made to upgrade the lagoons to a Biolac® activated sludge process which would allow for better control of sludge age and other parameters that would affect the nitrification rate within the basins. 
The Biolac® has the capability through addition of the Wave-Ox Process® to reduce total nitrogen via the denitrification process. The build-up of settled sludge within the basins had prompted operators to manually remove the sludge in order to optimize the treatment process.  This required the basins to be drained and sludge manually removed via sump pumps to the sludge lagoon, thereby further complicating the maintenance of an adequate nitrifier population.  The upgrade to the Biolac® process has aided in reducing the turbidity levels, allowing the UV system to operate as designed.
In addition, we have conducted a significant level of water quality modeling for this project to determine impacts of the wastewater effluent on the receiving waters.  We modified ADEM's water model to better reflect stream conditions and also for discharge requirements.     
General services provided by McFadden Engineering included obtaining the ADEM NPDES permit application, water quality model of Rock Creek using ADEMs steady state water quality model, operator training, wastewater treatment plant layout and design and construction engineering. In addition, McFadden was also completed the design of four pump stations, force mains, and gravity pipe that will, upon completion of construction, allow the city to abandon its main interceptor line to the WWTP and reduce Infiltration and Inflow (I/I) to the WWTP.