University of Mobile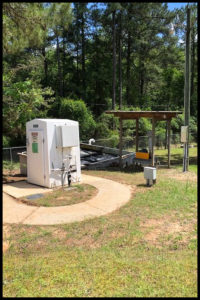 McFadden Engineering (MEI) currently provides operation and maintenance of the wastewater treatment system at the University of Mobile. The university has a 5-acre lagoon that provides primary treatment of the campus's wastewater. Additionally, a fixed activated sludge package plant polishes the water prior to its transmission to a drip disposal area. There, the treated water is allowed to slowly percolate into the ground via an underground injection control (UIC) permit. MEI performs the following tasks on weekly basis:
Review of equipment and processes to verify the correct operation of the system.

Daily recording of flow readings for permit compliance.

Alternate lead and lag pumps at lift stations within the treatment system.

Evaluate and troubleshoot issues with pumps.

Maintain operation of tablet chlorinator.

Manage level in lagoon, adjust flow rate to treatment system, monitor rainfall, and record freeboard.

Adjust dosing times at drip as needed.

Scour and clean media in treatment system. Skim the surface to remove solids.

Perform general maintenance and upkeep of blower associated with the treatment system.

Update wastewater treatment plant operator's logbook.

Assist with the preparation of discharge monitoring reports (DMR) for the client.
Through MEI's efforts, the treatment system and disposal field has remained in compliance with its UIC permit and good standing with the state regulatory agency