Site Remediation at Mobile Gas Services Corporation Manufactured Gas Plant
Mobile, Alabama
McFadden Engineering has provided the Mobile Gas Services Corporation (a Sempra Company) comprehensive environmental consulting services since 2009. Since then, McFadden Engineering has served as the program manager and engineering consultant for implementation of the recommended improvements for a comprehensive environmental evaluation as well as for the following project at their former Manufactured Gas Plant facility.
McFadden Engineering was recommended to the Mobile Gas Services Corporation to provide environmental services for the site remediation of a decommissioned manufactured gas plant in Mobile, Alabama. We were recommended due to our long term relationships with state and federal agencies and continued success at bringing closure to our clients' environmental problems. McFadden Engineering worked with highly qualified professionals that specialize in manufactured gas plant sites throughout the nation to bring the site to closure.
The site is situated in a downtown redevelopment district, across from an area elementary school and low income housing facilities. Due to the high profile of the site, McFadden Engineering provided a number of support activities for public involvement including presentations, coordination of meetings with regulatory agencies and stakeholders, and support for public notices and presentation information. We assembled and reviewed an extensive list of historical reports and data pertaining to the site, performed an initial investigation of the site and identified the remediation method.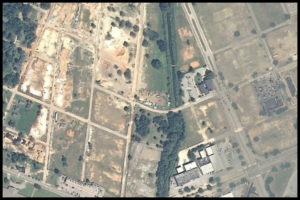 McFadden Engineering was responsible for management of the project, representing the owner with regulatory agencies, site assessment activities, development of health and safety plans, data collection, including the collection of soil samples and groundwater samples from monitoring wells, hydraulic modeling of adjacent streams using U.S. Army Corps of Engineers HEC-RAS software, and client preparation for meetings with corporate interests and stakeholders.