NPDES Compliance Sampling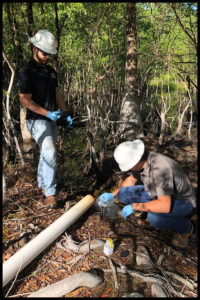 Authorized by the Clean Water Act, the National Pollutant Discharge Elimination System (NPDES) program requires that facilities discharging into the waters of the United States must be permitted. The NPDES has separate permitting programs for process wastewater and storm water. McFadden Engineering can assist with permitting and compliance in NPDES permits for direct discharges, pre-treatment permits for indirect discharges, land application, UIC permits for subsurface injection, and water reuse permits.  MEI is also experienced in storm eater Permitting and SWPPP development for construction industrial activities (general and individual permits). 
Compliance monitoring is a cornerstone of the Environmental Protection Agency's (EPA's) program to achieve clean water. The primary goal of EPA compliance monitoring efforts, such as on-site inspections and effluent monitoring, is to ensure and document whether entities regulated under the NPDES and pretreatment programs are complying with their Clean Water Act (CWA) obligations.  Because of our knowledge of analytical testing methods, treatment system operations, and permit obligations, MEI is the perfect choice for collecting discharge samples for permit compliance, documenting compliance and addressing non-compliance issues immediately after they occur.
McFadden Engineering currently assists numerous clients with permit compliance including:
Washington County Board of Education (Leroy and Fruitdale High Schools)

Monroe County Board of Education (JF Shields High School)

Spire Gulf, Inc.

University of Mobile

Rich's Car Wash

Coast Seafood

Weyerhaeuser (Castleberry, Alabama Facility)