Coast Seafood UIC Permit and Wastewater Treatment System Design
Coden, Alabama
Coast Seafood, Inc. is an oyster processing plant located on Johnson Road in the Coden community of Mobile County. The company provides services that process (i.e. picking, washing and cleaning) freshly harvested oysters brought on site from Mobile Bay and the surrounding Gulf Coast.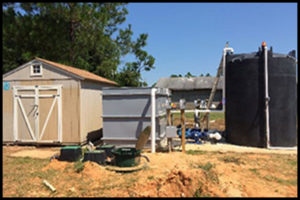 McFadden Engineering was retained by Coast Seafood after Alabama Department of Environmental Management (ADEM) personnel recommended that the facility update its existing treatment system to one that would remove the high bacteria and biological content that is typically present in waste from a seafood processing facility. In conjunction with this system, since there is no public sewer connection available for the oyster processing facility, the Department recommended an Underground Injection Control (UIC) system be placed onsite to dispose of the treated water.
McFadden Engineering assisted Coast Seafood with addressing these issues by applying for the UIC permit and designing a wastewater treatment system that could address the facilities treatment requirements. As part of the UIC permit application, a soils investigation was conducted to identify a disposal area for the treated wastewater on the property. In addition, McFadden personnel conducted a water well inventory within a half-mile radius of the facility and the proposed injection area.
McFadden Engineering developed a treatment process train that would efficiently treat the water and reduce the bacteria and biological concentrations prior to being injected into the disposal. Project engineers decided to leave existing treatment tanks in place and use them as pre-treatment tanks prior to implementing an attached growth biological treatment system to reduce organic loading in the waste stream. McFadden's patent pending OxyShark® treatment unit was implemented as the primary treatment unit in the process. Lastly, to address the mitigation of high microbial populations in the effluent and to further reduce (via oxidation) the organic load, an ozone process will be the final treatment before disposal into the field lines.
With the assistance of McFadden Engineering, Coast Seafood received their UIC permit for the facility from ADEM and immediately started construction of the treatment system. The system was brought online in 2015 and has been in compliance with UIC permit limits and requirements since its start-up.